Market development

IMO regulations to reduce sulphur oxides (SOx) emissions from ships have progressively tightened over the years. VDL AEC Maritime first built a solid repertoire by installing closed loop scrubber systems on ferry vessels. These ships sail in coastal areas where regulations came into effect earlier on and where no overboard discharge is allowed. From January 1st 2020 the emission of sulphur to the air is limited for all vessels globally including ships operating at open sea.
VDL AEC Maritime has now installed more than 100 scrubber systems, open, closed and hybrid loop, for various vessel types, including bulkers, tankers and ferries.
HFO vs. VLSFO

From the beginning of this year roughly 95% of the world fleet is sailing on low sulphur fuel oil. Since then several reports were shared regarding cylinder liner wear and damage that VLSFO is causing.
HFO acts as lubrication and is the fuel for which engines are originally designed. Furthermore tests show that low sulphur fuel oil is not always on spec, meaning the indicated sulphur content is not always what is actually in it, creating uncertainty about being in compliance.
Scrubber investment & fuel oil pricing

The decision to install a scrubber is for the large part depending on the price spread between HFO and VLSFO. With the current narrowed price spread the payback time has slightly increased but remains in most cases under 1,5 years.
Various resources like ING and Bloomberg indicate that the price spread will again widen to $180+ by 2021. Buying a scrubber now means direct fuel oil cost savings once the system is installed.
The VDL AEC Maritime scrubber system has a relative short installation time, additionally saving shipyard installation costs and further reducing your valuable off hire time.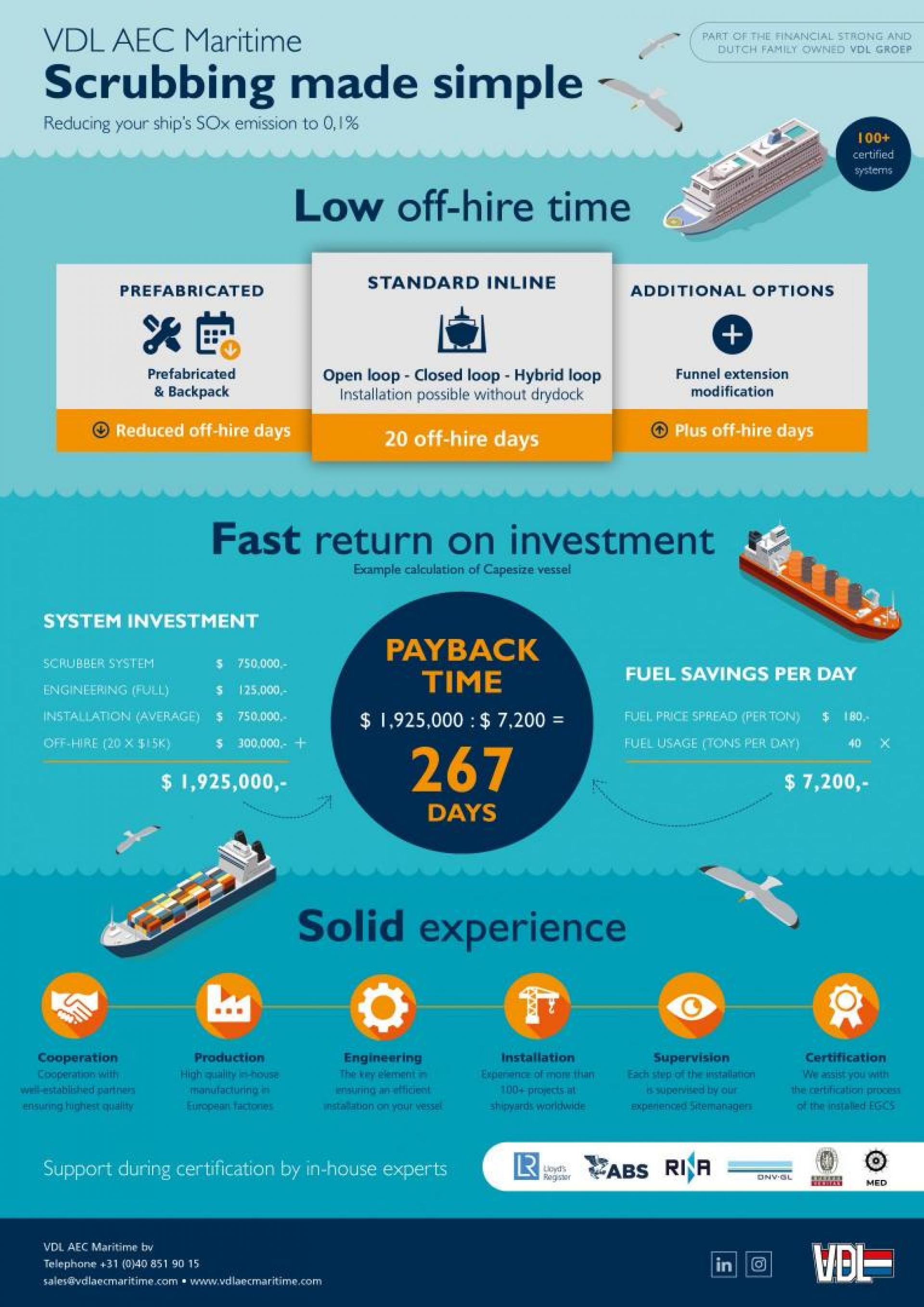 The VDL AEC Maritime EGCS

The VDL AEC Maritime scrubber system is compact, inline and easy to install.
The highest quality materials and components are used, making the system very reliable.
The inline model without rotating parts ensures easy maintenance.
The EGCS is easy to operate by the vessel crew who will receive support via an effective familiarization training upon delivery.
The most energy efficient system in the industry, saving additionally on operational costs.
Availability of professional service engineers after installation and a complete after sales department available providing 24/7 service assistance and spare part availability.
Smart turnkey service solutions including "one combined service attendance" for the MARPOL calibration & annual maintenance of the gas analyzer and the water monitoring system.
Certified by all major classification societies.